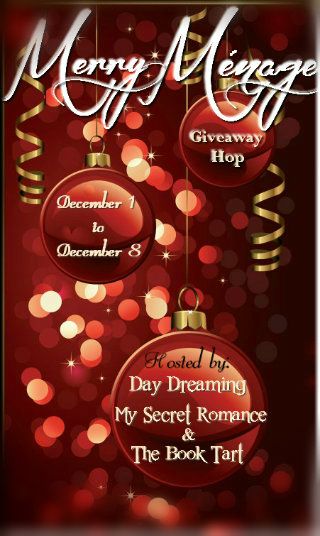 Come join our Merry Menage Giveaway Hop hosted by Day Dreaming, My Secret Romance and The Book Tart!
Need a new bedtime story to light your fire? Looking for something with a little heat to warm you during the cold holiday season? Feel like decking the halls naughty style? Well then, come join us as we stand under the mistletoe for this wickedly sexy giveaway hop! The more the merrier! Have no worries, we'll help you trim your trees, deck yours halls, and spark that fire!
Welcome to my stop on the hop! :) My giveaway is worldwide and below via the Raffleocpter. Also don't forget to use the linky below to hop to the next blog!
How to choose just one book that I want to read!? The first book that comes to mnd when thinnkng of this hop is actually a book I read yesterday, The Dom with a Safeword by Cari Silverwood, Leia Shaw and Sorcha Black (info below |
review here
) the second is a book on my wish list Three to Ride (Nights in Bliss, Colorado #1) by Sophie Oak
Rachel Swift is a woman on the run. Max and Rye Harper are just the men to catch her. A stalker sent Rachel's world reeling. Now she's running for her life, and Bliss, CO, seems like the perfect place to hide. Bliss is a strange little town, filled with artists, nudists, and the occasional conspiracy nut. It's a good place to start over. Horse trainer Max and Sheriff Rye gave up on their dream of finding one perfect woman to share long ago. Rachel walks in, and they're both in love and fighting their true natures. When Rachel's past catches up with her, all of Bliss is in danger. Can Rachel stand up to the man who took everything? Rachel is done running. It's time for her to get back in the saddle and ride. ** A Siren Erotic Romance
Late at night, on an amateur ghost hunt, Sabrina and her best friend Q are caught trespassing by the gorgeous, blonde Jude. The embers of attraction between them sizzle when they discover Jude's kinks match their own.
Jude is a Dom on his last summer of freedom before starting the prison sentence that is med school. Q is a bad-ass bi switch who knows what she wants, and for years it's been her cute, doe-eyed straight friend Sabrina. But the only way into Sabrina's heart and panties may be with Jude's fist wrapped in her hair.
Domming the bratty Q and mischievous Sabrina isn't going to be easy but Jude relishes the challenge. At the end of the summer, will they find a way to stay together when everything is tearing them apart?
a Rafflecopter giveaway